Post by Kurt K on Apr 8, 2012 23:29:10 GMT -5
What can I say? He's back - and for starters, he's going after the iPhone crowd.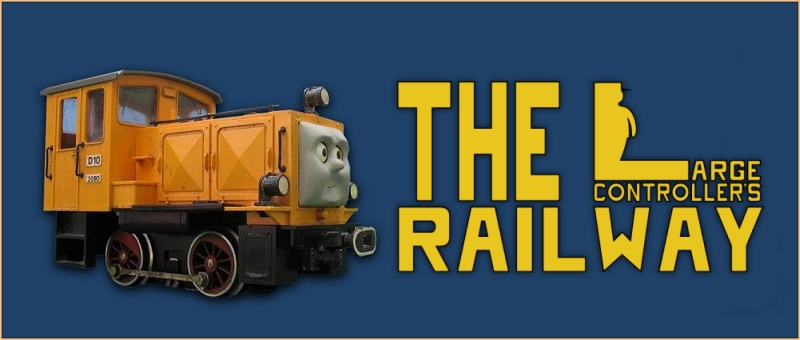 The Large Controller's Railway: Spaced Out - Season 4

Season 4:
S4 E1: PHONEY BALONEY
S4 E2: MANIC CITY
S4 E3: LAST STRAWS (in progress)

**********************
Season #4, Episode #1:PHONEY BALONEY

Written By:
Kurt Kaminer
Thomas Pearce
-----------------------------
The Large Controller had fallen into luck - and pretty near broke his leg when falling into it.
Twice a year, the Large Controller visits the gaming resorts in the Bahamas to play bingo. With his luck, he usually winds up using the left-over bingo cards as firewood; but something different happened this time around.
The Large Controller's eyes widen at his card as he stands up and delivers the biggest shrieking yell of "BINGO" ever heard, sending the party at the neighboring table straight through the roof in surprise.
With his new-found fortune, the Large Controller - strangely enough - decided to invest a bit in his railroad, by purchasing some fancy, new aluminum rail.
The new rail cost twice that of steel, weighed half that of the Large Controller's refrigerator, and had the durability of butter on a hot day.
Princess had been given the job to carry the new rail to the track crews; but she wouldn't budge.
"It isn't fitting for a glamorous engine such as myself to engage in the jobs of rank commoners. I have my standards!"
"And I do too," boomed the Large Controller. "You will do as you're told!"
"I will not! I am too special for that!"
The Large Controller and the shed crew argued, pleaded, and yelled for ages, but there was no use in doing so. Princess stood pat as the Large Controller furiously slammed the shed door in her face.
Ernest rolled in to see the Large Controller conferencing with Gail.
"Halloa - what's the trouble?"
The Large Controller explained about Princess.
"Hah! And you thought those corny schemes would work?"
"Ernest..." began the Large Controller, losing his temper.
"I can have her out in 30 seconds."
"Do that, and you and your driver have the weekend off."
"Done."
"
FIRE IN THE SHED!!!!!!!!!!!!!!!!
" yelled Ernest.
A cloud of smoke burst through the shed doors as Princess rolled furiously out in a flurry of wheelslip.
"I'll take my weekend vacation now, sir" said Ernest.
"You
TRICKED ME!
" screeched Princess.
"What's with you?" asked Ernest, "someone roll over your CryPod?"
"NO!"
"Boo hoo. Get to work, Miss Montana."
Princess scowled and blew ash at Ernest, to which he replied with a burst of noxious exhaust. Princess' face was covered in soot.
"My FACE! My beautiful FACE! Now I'll have to apply my makeup all over again!"
"That's right, make with the war paint."
"Oooh, you're intolerable."
"Honestly, Princess, you have the disposition of a badly-tuned carburetor."
"Take your mouth and shove-"
Gail had enough. "One more word out of you, and I'll scratch your brass buffers into scrap metal."
"You wouldn't dare!"
"I give you 5 seconds. One, two, three..."
And so Princess left for the yard - most willingly.
The rail had been loaded onto special flat cars nicknamed "simpletons" by the tracklayers. Given that name, Princess should have felt right at home, but she was too busy on her new SchmartzPhone.
"And then, like, you know, this little yellow engine with the bad diesel smell I was telling you about..." rambled Princess, oblivious to anyone or anything around her.
The Large Controller arrived to assign work orders - his telegraph system had fallen to the ground again - but that wasn't so easy with Princess.
"Princess, I'd like you to-"
"Can't you see I'm talking to my
friend
on
Sodor?! Pluheeeze!
"
"
'Friend on Sodor?
'" mumbled the Large Controller, momentarily lost in thought. "Well - never you mind that; now go and deliver these rails!"
"Yea, yea, whatever."
"AND DON'T YOU TELL ME
'WHATEVER!'
" screamed the Large Controller with a deafening timbre. Even Stevie - 5 miles away - jumped clean off the rails in surprise. Princess, on the other hand, steamed out of the yard - still on the phone - completely oblivious.
Princess steamed along the line at a fast clip with her rail train - too fast.
"Princess!" yelled her driver, "Slow down! This line isn't made for these speeds!"
But Princess didn't listen. She was too busy listening about how her friend abandoned a scruffy logging locomotive over some special whistle.
"That's SO funny!" said Princess, "Did he-"
But Princess never had the chance to finish that sentence. Her SchmartzPhone went flying as her front bogie rode off the railhead, strewing aluminum rail and flatcars over an entire parking lot. Princess came to rest on top of a beat-up Fiat - the Large Controller's, of course. All of the soft, aluminum rail had bent to the point of being completely unusable.
Ernest and Gail came to clear the mess when the Large Controller stormed in.
"Princess, this is the last straw," he said, fuming.
"Indeed it is - I
demand
that you replace my phone!"
"Princess," began Gail.
"Yes?"
"...stick it up your apps!"